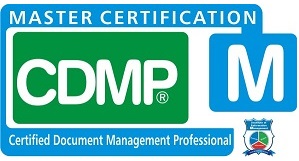 IIM Certifications - The Industry Standard for Professional Competence in Information Management Certified Document Management Professional - CDMP®
Document controllers are needed for document handling in a meticulous and organized manner, with access to sensitive documents, which requires confidentiality. Furthermore, an important task for the document controller is to update information, and the provision of most accurate copy or revision of a document to the organization. Compliance to current regulatory processes for the management of information as another critical responsibility a document controller is expected to adhere to.

The document controller works in a professional setting to monitor the flow of documents (hard copy and electronic). Document control specialists are required in oil & gas, health care, government, engineering, education, insurance, manufacturing, construction, banking industries etc.

IIM is pleased to offer the Certified Document Management Professional (CDMP) certification track to industry personnel responsible for compliantly managing documentation that is produced across a diverse spectrum of industry and activities. Participants will benefit from a comprehensive training curriculum designed to provide a framework for effective Document Control and administration.
Why Document Management Certification Program?
To demonstrate that DCs are qualified to manage documents using the standard regulatory procedures.
To assist DC demonstrate the pivotal role in compliance efforts in the creation, management and retention of critical regulatory information required for submission to regulatory agencies or other stakeholders.
To correct the impression that most document control personnel have limited document control educational background and are seen as administrative or support staff, not professionals.
To enhance the understanding of business, how they fit in, and what their role and responsibility should be.
To provide easy access to document control certification program.
To assist candidate understand what, why and how to add much greater value to their organization.
To assist candidate in addressing ineffective systems in developing a more resourceful one within their organization.
Compulsory Stages
The Document Management Certification program requires three (3) levels of compulsory certification paths:

Information Management Professional Stage I - IMP I (Foundation Stage) - 5 Modules
Information Management Professional Stage II - IMP II (Intermediate Stage) - 5 modules
Information Management Professional Stage III - IMP III (Advanced Stage) - 5 Modules
Masters Option
The Document Management Certification Master option consist of three modules that must be passed before the certification can be confered on Candidate:

Certified Document Management Professional (CDMP) - 3 Modules